Prayer
I waited patiently for the LORD; he turned to me and heard my cry.
He lifted me out of the slimy pit, out of the mud and mire; he set my feet on a rock and
gave me a firm place to stand. He put a new song in my mouth, a hymn of praise to our God.
Many will see and fear and put their trust in the LORD.
Blessed is the man who makes the LORD his trust, who does not look to the proud,
to those who turn aside to false gods.
Psalms 40:1-4
Father, sometimes we feel that nothing is going right.
This Psalm tells us that when we patiently wait upon You, in the midst of struggles,
you do incline Your ear to us; You do hear our cry.
You take us from the feeling of being alone and lost to being lifted up,
comforted and encouraged.
You put a new song in our heart when we turn to You. Nothing in this world
can comfort us as You can and no one understands our needs as You do.
Lead us to that quiet zone of Your presence when we feel impotent.
Your word says blessed is the man who trusts You and does not look to other persons here
for the kind of leadership and comfort that only You can give. Help us today to seek You
in all things, at all times. In Jesus' Holy name, we pray, Amen.
Bruce Caldwell (solascriptura.com)


God's Gifts
Therefore I tell you, do not worry about your life, what you will eat or drink;
or about your body, what you will wear. Is not life more important than food,
and the body more important than clothes?
Look at the birds of the air; they do not sow or reap or store away in barns,
and yet your heavenly Father feeds them. Are you not much more valuable than they?
Who of you by worrying can add a single hour to his life?
And why do you worry about clothes? See how the lilies of the field grow.
They do not labor or spin.
Yet I tell you that not even Solomon in all his splendor was dressed like one of these.
If that is how God clothes the grass of the field, which is here today and tomorrow is thrown
into the fire, will he not much more clothe you, O you of little faith?
So do not worry, saying, 'What shall we eat?' or 'What shall we drink?' or 'What shall we wear?'
For the pagans run after all these things, and your heavenly Father knows that you need them.
But seek first his kingdom and his righteousness,
and all these things will be given to you as well.
Matthew 6:25-33
Bible verses

Jesus, to have You, personally, teach us is no small thing.
Is there anyone, anywhere whose words could be more important to us?
On many occasions You teach us not to be anxious about anything. Given the number of
deep sighs, hands wringing, and perplexed looks we manifest, it seems anxiety and stress
are more common than not.
But what do You say Jesus, about anxiety? You say, repeatedly, "don't worry" and then
You teach us why. When we abide in You and You in us, You fully understand our needs.
You tell us that if we seek a relationship with You, seeking first the kingdom heaven,
that all the things we need will be added unto us. You ask us to have faith in the fact that
You are there for us, a friend for eternity.
We do not always get everything we want Jesus but we do get everything we need.
Help us today to know that if you bless us with more, much more than we need that Your expectations of our service to others, goes up. Truly, to whom much is given, much is required.
We seek both Your blessings and Your Spirit in us,
enabling such blessing to inure to the benefit of all.
We pray in Jesus' name, Amen.
Bruce Caldwell (solascriptura.com)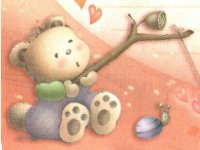 Courage
Fear not, for I am with you; be not dismayed, for I am your God.
I will strengthen you, yes, I will help you, I will uphold you with My righteous right hand.'
"Behold, all those who were incensed against you shall be ashamed and disgraced;
they shall be as nothing, and those who strive with you shall perish.
You shall seek them and not find them—those who contended with you.
Those who war against you shall be as nothing, as a nonexistent thing.
For I, the LORD your God, will hold your right hand, saying to you,
'Fear not, I will help you.'
Isaiah 41:10-13

Bible verses
Dear God, what powerful promises these are. Even in the midst of fear, You lift us up,
You extend Your hand to us, in a very personal way. You are our God!
You clearly teach that those who choose to try and bring us down, to upset our faith,
will be as non-existent. Their taunts and derisive comments will be silenced and
we who endure, through faith in You, will know eternal peace.
Father, even though these words are true, we pray for the enemy;
we seek to experience the truth of the New Covenant, wherein Your truth is written
upon our hearts. Yes, if the enemy chooses to remain Your enemy as well,
they will perish but help us to help them.
Give us a heart to love those who do not deserve our love just as we,
when we came to You as sinners, did not deserve Your love. Strengthen us.
We can never be as You in our own strength. Amen.
Bruce Caldwell (solascriptura.com)